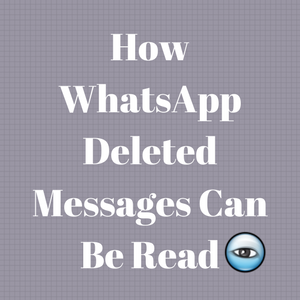 WhatsApp has launched a new feature which is named as "Delete For Everyone". This feature came out a few days back. This new WhatsApp feature allows the user to recall or delete the messages which they have sent in seven minutes. But there is a simple whatsapp bug thats through we can read messages which are deleted on the device if the user is having Android Nougat or higher version. You can do it by a third-party app which is named as Notification History.
After you download the Notification History app, you can read the deleted text. However, keep in mind that this App only shows the deleted text, not the videos or photos. One must download the app from Google Play Store. Then you can see the messages which are deleted from the notification log.
Actual Fact in Trick: The messages are stored in the notification register of the android system and we found those text in the notification history app. So, it's just a matter of entering that record to see the messages that the other person deleted. The Notification History application is a shortcut to that record.
Note: User can only see the first 100 characters of the text just like Notification Panel. So, now there are possibilities that WhatsApp will bring another update soon so that the deleted messages can't be read.
Source: Internet