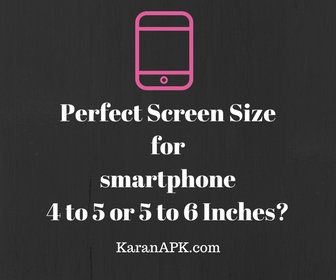 Perfect screen sizes have always big role for smartphone users. We have noticed that smartphones have gotten bigger and bigger over the last few years. In the past time having a big screen size was not the necessity and people using mobiles for just for calls and SMS. People truly wondered when 4.0 – 4.3 inch screen were comes in late 2009 and mid 2010. Now days various company focusing on bigger screen because they think modern people like watching videos, playing games on big mobile screen. Now our question is What should be the correct mobile display size for users? Here we just going to share our opinion from our side.
We think the perfect screen size ranges is 4.0 to 5.0 inches because Your thumb can go easily anywhere and it will give flexibility and usefulness.
Why 4.0 to 5.0 Inches Perfect Screen Size for Smartphone
Agreeable to hold
Effortlessly fits into your pocket
Light weight
Not very huge and not very little
You may read: How to Choose Future Proof Best Android Smartphone [Tips]
Many reviewers and users argue about the need of such large screens but still some people like this size of screens. Let us know your perfect smartphone screen size and why! Thanks for reading.