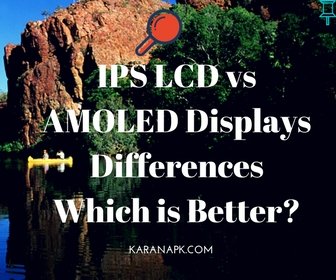 IPS LCD Display Mobile or AMOLED Display Mobile is Better? We know that Sony, Motorola, Micromax etc company have IPS LCD Display and most Samsung mobile have super AMOLED Display. It is always tough deciding which display will be good for us when you decide to buy your new smartphone. Hope this article will be little helpful to all.
Different Type of Smartphone Screens
There are two types of smartphone screens, the IPS LCD (Liquid Crystal Display) and AMOLED (active-matrix organic light-emitting diode) are top most smartphone screen available today.
Smartphone Screens IPS LCD and Super AMOLED Compared, Advantages and Disadvantages :
1. Picture Quality
super AMOLED smartphones have better color, brightness, viewing angel and quick response time to fast moving action scenes.
IPS LCD screens also have very good picture quality and only advanced instruments can differentiate between the picture quality of latest LCD and Super AMOLED screens.
2. Picture Brightness
Super AMOLED screens produces is self lighhting, meaning the pixels glow on their own without any back light. So, the brightness is vey good for indoors, but outdoors in the sunshine it is difficult to see an AMOLED phone screen clearly.
IPS LCD works with a backlight and the backlight brightness can be adjusted according the ambient light. LCD screens are very good indoors and is quite legible outdoors even in direct sunlight.
3. Thickness of Phone
AMOLED screens smartphones can be made extremly thin because AMOLED screen requires no backlight.
Due to the requirement of a backlight, LCD screen mobile phone tend to be slightly thicker than AMOLED screens mobile phones.
4. Cost
IPS LCD Display cheaper to manufacture than AMOLED and AMOLED Displays more expensive to manufacture than IPS, especially for larger displays.
Our Opinion
There really is no winner when it comes to AMOLED vs IPS LCD. If you want bright colors and deep blacks then go for AMOLED and If you want natural colors and sharpness go for IPS LCD. Both display are very good.