Hello! Friends, In this post we are going to introduce one of the best Free App Maker from google play store. Do you know how to create an ideal App? Are you looking to make an App for your Business? How to make free Android App in minutes ? Your wish is over with this App Builder. It is the world's fastest growing mobile platform for business. Create your own android application for free in minutes! No coding skills or technical knowledge needed.
This App Builder Tool developed by Prime App builder Ltd. This is the first app development builder tool that doesn't needed any programming and is designed for the palm of hand. you will be able to create your own app with three easy steps : (i) Selection (ii) Design (iii) Build .
Move your business M2M to the next IOT level by having a mobile app right now. Easy way to use app builder and requires no programming skills . You will be able to create powerful & awesome app design that will look and feel beautifully like a native app.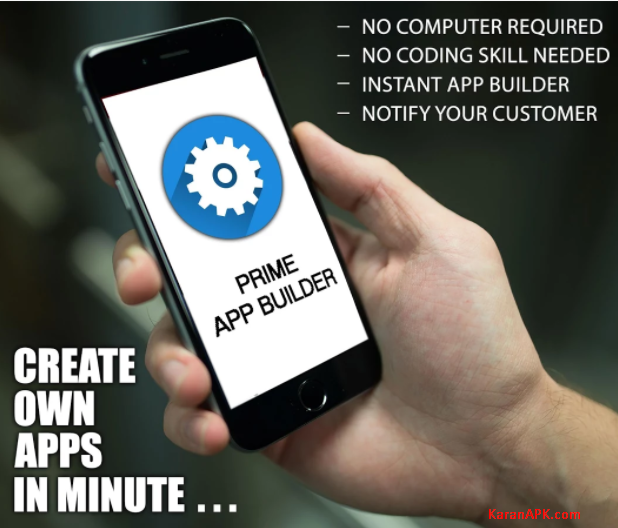 App Builder Benefit :
– No need for learning Android Application Development tutorial
– Free of coding or technical skill
– No need for learning JAVA or XML
App Builder Features :
– Instant deliver .apk file
– FREE Trial
– Material user interface
– Multiple app categories to choose from
– themes to better suit your needs
– Give instant updates to end user with updating app
– Versatile design to personalize your app with your own images and text
– Social Media integration, connect your Facebook, YouTube and Twitter to your app
– Publishing to app store platforms (Google Play)
– Send push notifications to your users
– Flexible chat
– Add various pages like – about,contact,home,map,chat,quiz,document,survey,portfolio e.t.c
– Additional services
Note: You will need a subscription to keep your app published. A free trial is included.
Google Play Download Link: App Builder – Create own app ( FREE APP MAKER )