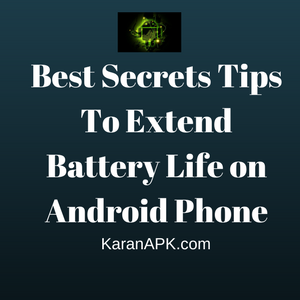 Every android smartphone user expect more battery longevity. Battery life has always been a concern for developers, manufacturers and the users themselves. Don't worry! Battery life can be effectively utilized and managed if you follow our tutorial about "Best Secrets Tips To Extend Battery Life on Android Phone".
Tips To Extend Battery Life
Don't let your phone fully discharge : It's better to charge your phone every day than to do a "deep charge" from time to time. If you frequently let it drain to 0%, they become unstable. Your battery has a finite number of charge cycles (Most lithium-ion batteries have a rated lifetime of somewhere between 500 and 1,500 charge cycles), and every time it fully dies, that's another cycle out the window. Your battery life will last longer if you keep your phone charged between 40% and 80%.
Turn off background notifications for most services. Big culprits are Twitter, Facebook, etc. Make sure you set the refresh interval to "Never" or "Manual". Just refresh them when you open the apps.
Always return to the Home screen before suspending. For example, if you're in the Maps application and you're going to suspend your phone (put it in your pocket). Make sure to press Home first, and then suspend, because if you don't it'll stay in the Maps app using battery for network & GPS when that's really unnecessary. This is true for many apps.
Don't install all kinds of crazy stuff. Stick with well-known apps. Poorly developed apps can create background services that use way too much power.
Uninstall things you're not using. You might think they're idle if you're not using them, but they could still have running background services. Uninstalling will take care of this.
Turn off Bluetooth. (if you don't regularly use it). Android 2.x comes with a nice toggle widget, use it.
Turn off WiFi (if you don't regularly use it). Or, use a WiFi toggle widget to only turn it on when you need it.
Use Airplane mode when you're in areas of poor reception. If you're travelling to an area where you know you won't have service (say, a National Park) then put the phone in Airplane mode. If you don't, it'll keep looking for a signal, and drain your battery very quickly.
Reduce your screen brightness. Keep it as low as you can tolerate.
Check your Power Usage periodically. When you feel your phone has lost a lot of power quickly, check the power usage by going to Home->Menu->Settings->About Phone->Battery Use and see what the top items are. Typically, this should be "Cell standby" "Phone Idle" and "Display" taking up >50% in total.
Remove homescreen widgets you're not using.
Don't use a "Live Wallpaper".
Don't sync too much. Reduce the number of labels/folders and days of GMail and Calendar that you sync. This can lead to a drastic increase for users with a large number of calendars & labels.
Turnoff your smart phone frequently: Strange but true turning off or a simple reboot your phone is important, it can help restore battery life. Android experts recommend turning your phone off frequently or once a week especially when you go to bed at night in order to preserve battery life.
Hope this article was helpful. Thanks for reading.